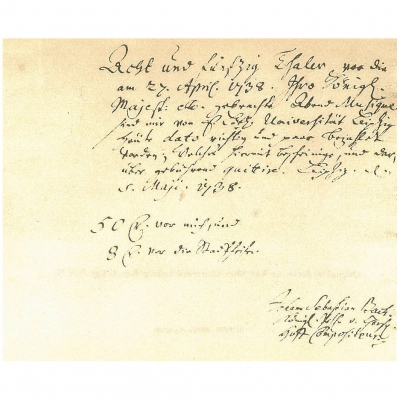 Facsimile: Receipt
Receipt: Performance of a cantata
Leipzig, 5.5.1738
»Acht und funzig Thaler vor die am 27. Aprilis 1738. Ihro Königlichen Majest: etc. gebrachte Abend Musique sind mir von E. Löblichen Universität Leipzig heüte dato richtig und paar bezahlet worden; welches hiermit bescheinige, und darüber gebührend quittire. Leipzig. den 5. Maji. 1738.
50 rthl. vor mich, und
8 rthl. vor die StadPfeifer
Johann Sebastian Bach.
Königlich Pohlnischer v. Churfürstlicher
Hoff Compositeur. etc.«
Johann Sebastian Bach receipts the fees for composition and performance of the cantata "Willkommen, ihr herrschenden Götter der Erden" (BWV Anh. 13), which was performed in Leipzig in attendance of the royal couple and the oldest princess. Only the text by Johann Christoph Gottsched survived.
Facsimile of J. S. Bach's handwriting from the year 1738, 1 page.