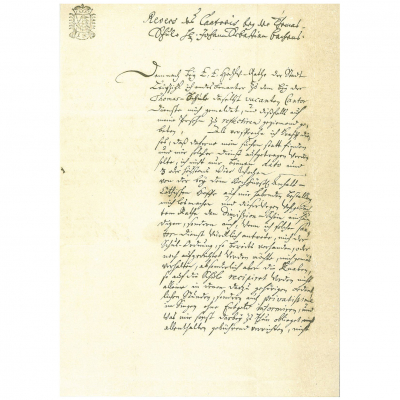 Facsimile: Provisional declaration
Provisional declaration for the acceptance of the cantorate
Leipzig, 19. 4. 1723
»Demnach bey E:E. Hochw.-Rathe der Stadt Leipzigk ich endesbenanter zu dem bey der Thomas-Schule daselbst vacanten Cantor Dienste mich gemeldet, und dißfalls auf meine Persohn zu reflectiren geziemend gebeten, Als verspreche ich krafft dieses daß daferne mein suchen statt finden und mir solcher Dienst aufgetragen werden sollte, ich nicht nur binnen dato und 3 oder höchstens vier Wochen von der bey dem HochFürstlich Anhalt-Cöthischen Hoffe auf mir habenden Bestallung mich losmachen und dieserwegen wohlgedachten Rathe den Dimißion-Schein einhändigen, sondern auch, wenn ich solchen Cantor-Dienst würcklich antrete, mich der Schul-Ordnung, so bereits vorhanden, oder noch aufgerichtet werden möchte, mich gemäs verhalten, absonderlich aber die Knaben, so auf der Schule recipiret worden nicht alleine in denen darzu gehörigen ordentlichen Stunden, sondern auch privatißime im Singen ohne Entgeld informiren, und was mir sonst darbey zu thun oblieget, allenthalben gebührend verrichten, nicht weniger, daferne, jedoch mit vorbewusst und Bewilligung E.E: Hochweisen Raths, zu meiner sublevation beym informiren in der Lateinischen Sprache jemand erfordert werden sollte, denselben aus meinen eigenen Mitteln ohne von E.E. Hochweisen Rathe, oder sonst etwas zu begehren, davor vergnügen will, Treulich und ohne Gefehrde; Urkundlich habe ich darüber diesen Revers unter meiner Hand und Petschaft von mir gestellet.
Geschehen Leipzigk den 19ten Aprill, 1723.
Johann Sebastian Bach
p.t: Hochfürstlich Anhalt-
Cöthenscher Capellmeister«
Provisional declaration, written by Johann Sebastian Bach, which the town council of Leipzig requested from him before he could accede to the position of Thomaskantor.
Facsimile of J. S. Bach's original handwriting from the year 1723, 1 page.